Holland Bloorview's Hummingbird assistive technology – a Canadian first – gives kids, adults with disabilities a voice
Source: https://hollandbloorview.ca/stories-news-events/news/holland-bloorviews-hummingbird-assistive-technology-canadian-first-gives
Bloorview Research Institute launches crowdfunding site to bring empowering technology to market
Holland Bloorview Kids Rehabilitation Hospital announces the launch of a new assistive device – the first of its kind in Canada – that is designed to help non-speaking children and adults with severe physical disabilities communicate with the world around them – all by the power of their own humming.
Introducing The Hummingbird: a wearable technology that detects vocal cord vibrations and converts them into switch outputs that can 'talk' to different interfaces such as computers, communication devices and more, empowering kids and adults alike to express their ideas. For children and their families, it opens newfound options and opportunities for learning and participation in their daily lives.
"Children who can't communicate through speech often have been expressive all their lives," said Tom Chau, vice president of research at Holland Bloorview and director of the Bloorview Research Institute (BRI). "But up until now, there hasn't been an access technology for children whose best way of interacting with their world is through humming."
"With the help of this unique technology, kids who can hum can now access augmentative and alternative communication devices, and eventually learn to express themselves through technology."

Dr. Chau and his research team at the Bloorview Research Institute's PRISM Lab have focused on access innovations in recent years, which include the discovery, design, and evaluation of novel pathways by which children and youth can communicate or interact with their environment in the absence of functional speech and gestures. Hummingbird, and its previous iterations, is one such technology that has already been trialled by some 30 families, including Oviya Devan and Amber Fittler, whose families live in Ontario.
"Oviya's a bright girl with lots to say but just needs help to get those words out," says Ramya Raghavan, whose 15-year daughter has global developmental delay and epilepsy. "This Hummingbird device has given our child who is non-verbal a voice. That would not have been possible if there was no link between what she can express and what we can understand. The whole world can now understand what she has to say."
"Our 27-year-old daughter is locked in a world of frustration and relies on others to have her needs and interests met," says Audrey Fittler, whose daughter Amber lives with spastic dystonic quadriplegia cerebral palsy and is non-verbal. "We were thrilled to have the opportunity to experiment with the Hummingbird device, to give Amber the opportunity to open an exciting new world for her to speak for herself."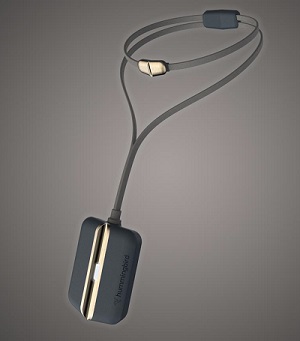 Help Hummingbird Take Flight
The Hummingbird is a mature, evidenced-based technology with four previous prototypes created to date and multiple publications demonstrating its design and use. The team is currently working to create a smaller, consumer-ready version of the device that is fully wireless, as well as training and instructional materials.
To assist in raising the $180,000 capital needed to manufacture 300 units of the Hummingbird, the team has launched an IndieGoGo crowdfunding site for pre-sales of the Hummingbird. This will enable the team to produce the units for interested families and clinicians for product delivery once the capital is raised.
"Making the Hummingbird available to people who need it means they have more choices concerning access devices and a greater ability to ultimately live to their true potential," says Sharon Wong, director of commercialization at the BRI. "We will be working closely with industry partners, clinicians, educators, and families to ensure these refinements optimize the Hummingbird's durability and accessibility to provide a cost-effective and user-friendly experience for all."
For more information about the Hummingbird, visit www.myhummingbird.ca
Watch a video of the Hummingbird in action with Oviya and her family.
The Hummingbird is one example of how Holland Bloorview Kids Rehabilitation Hospital is building a more inclusive world for children of all abilities and their families. Learn more about this year's Imagine Everybody campaign.
The commercialization of Hummingbird was made possible in part by support from the Government of Canada's Accessible Technology Program and Bell Canada.